Sunflower Summer is BACK!
http://sunflowersummer.org/
Download the app and register your family to beginning planning summer fun with FREE venue tickets when your ready to spend a day exploring. Over 80 locations and new features added from last summer.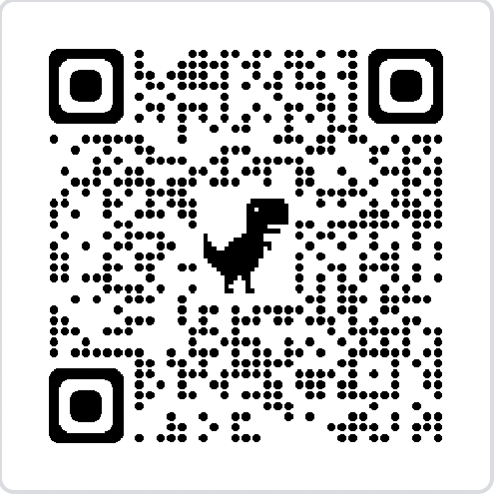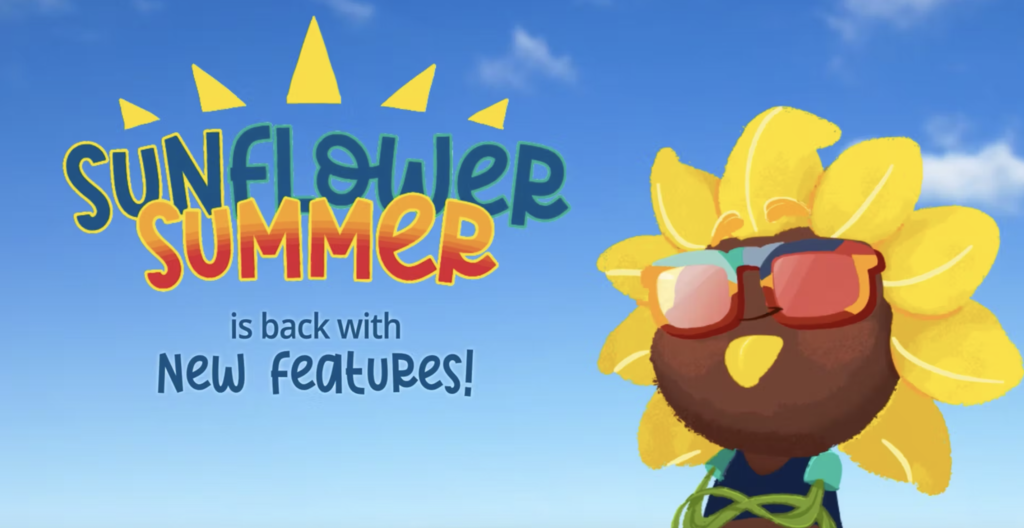 Oxford beats Central 4-3 to move on to the Regional finals to face Belle Plaine tomorrow at 5pm in Burden. #notdoneyet #family358 #GoCatsGo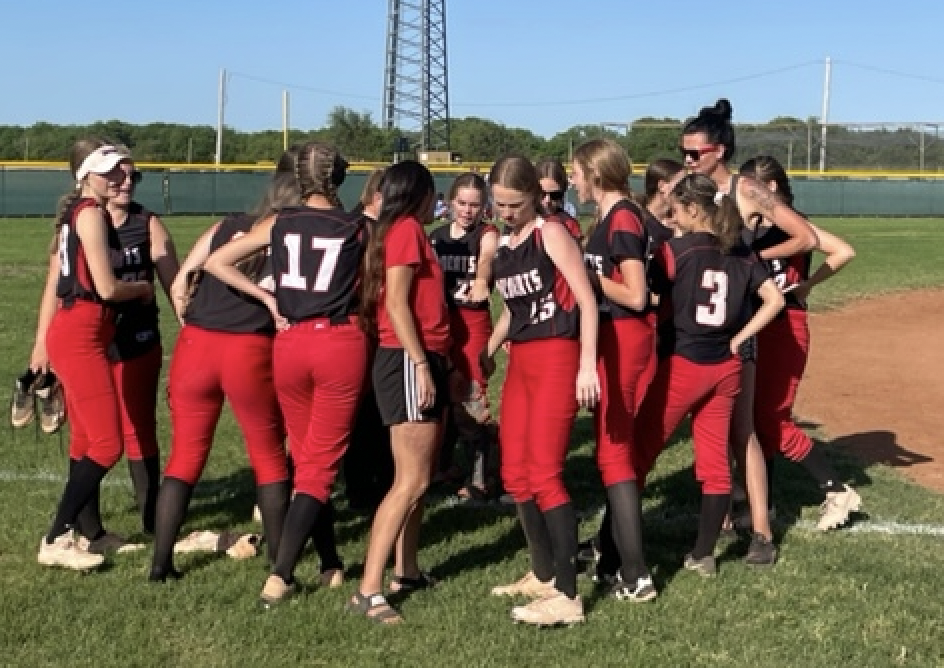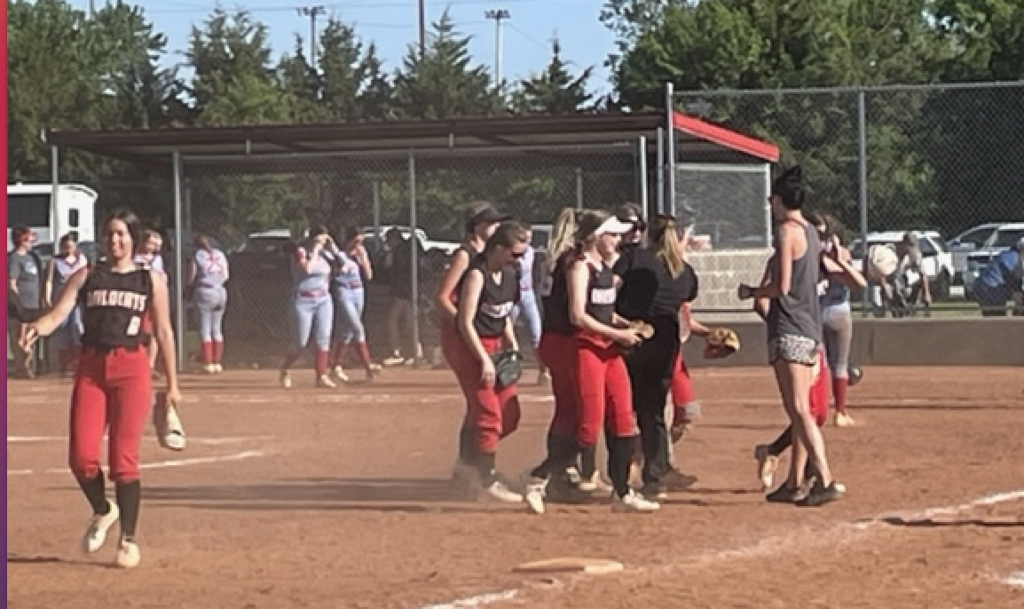 Regional softball and baseball kick off tomorrow. Softball plays at Oxford. Baseball will travel to Central. Good luck to both teams.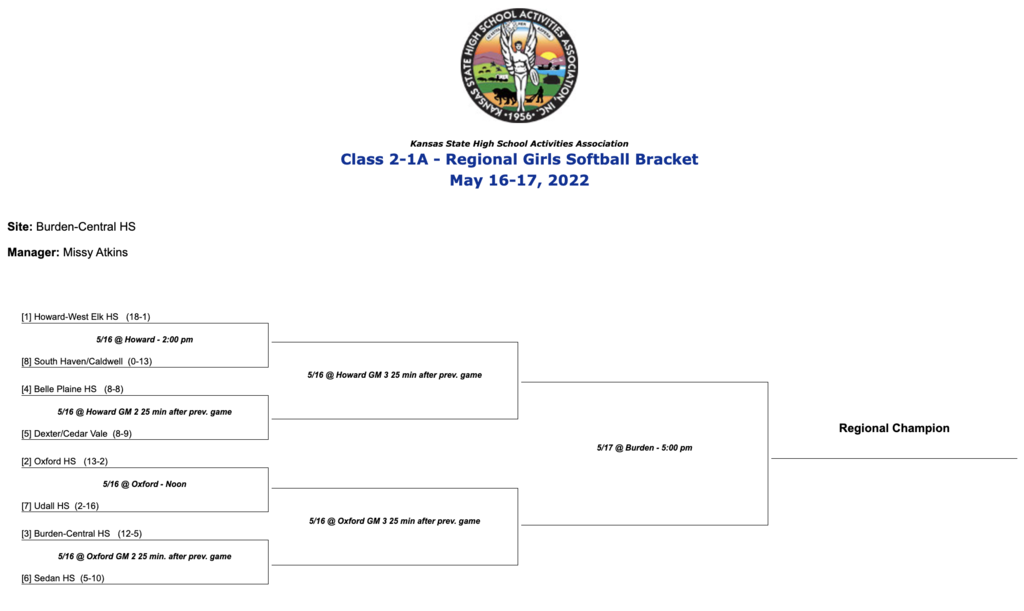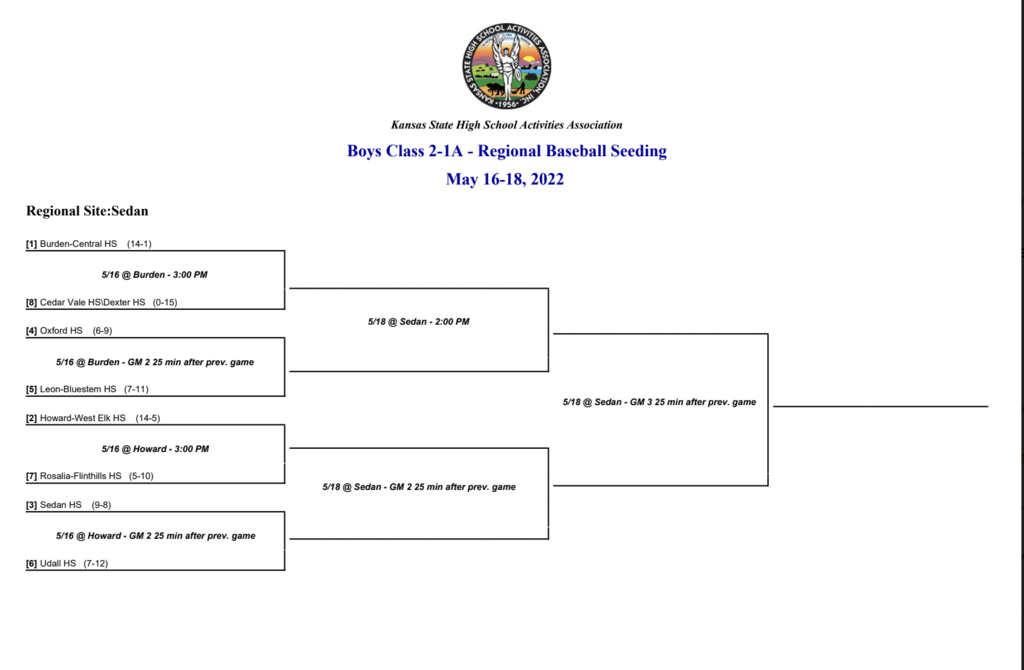 USD 358's staff appreciation and awards luncheon recognized: Kay Gehring's retirement after 24 years, Dan Gehring and Angie Rozel 10 years of service, Wade Metz and Veronica McClamy 5 years of service, and teacher's of the year: Kim Mitchell,(elementary) and Lauren Van Allen (secondary). Lots of drawing winners also walked away with prizes! A Taco Bar was catered by No. 7 Coffee House. Congratulations and thank you for serving the children and families who are part of the Oxford School District. Have a great summer!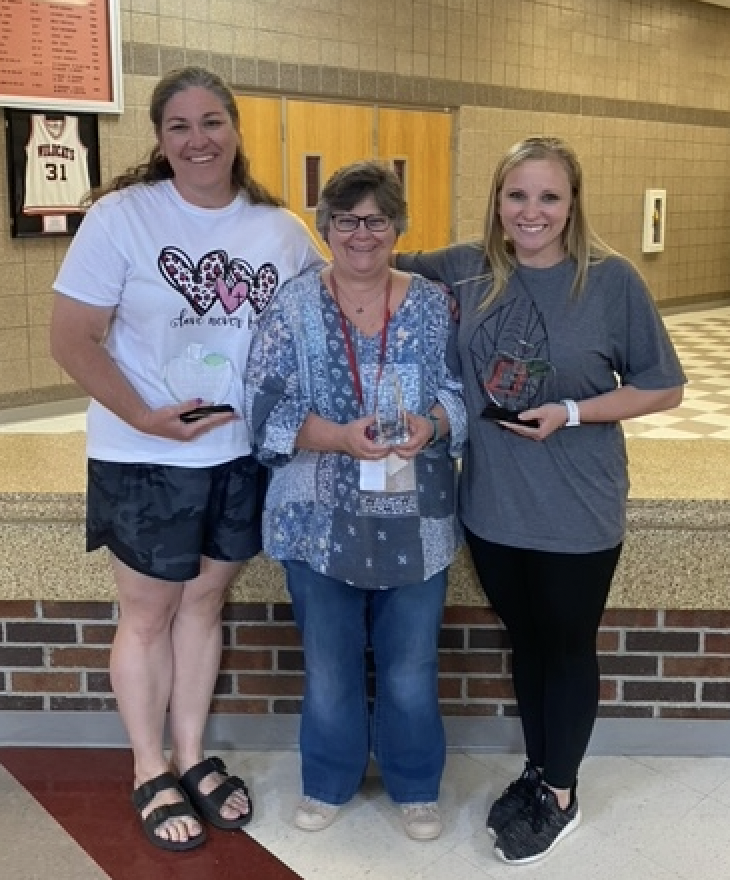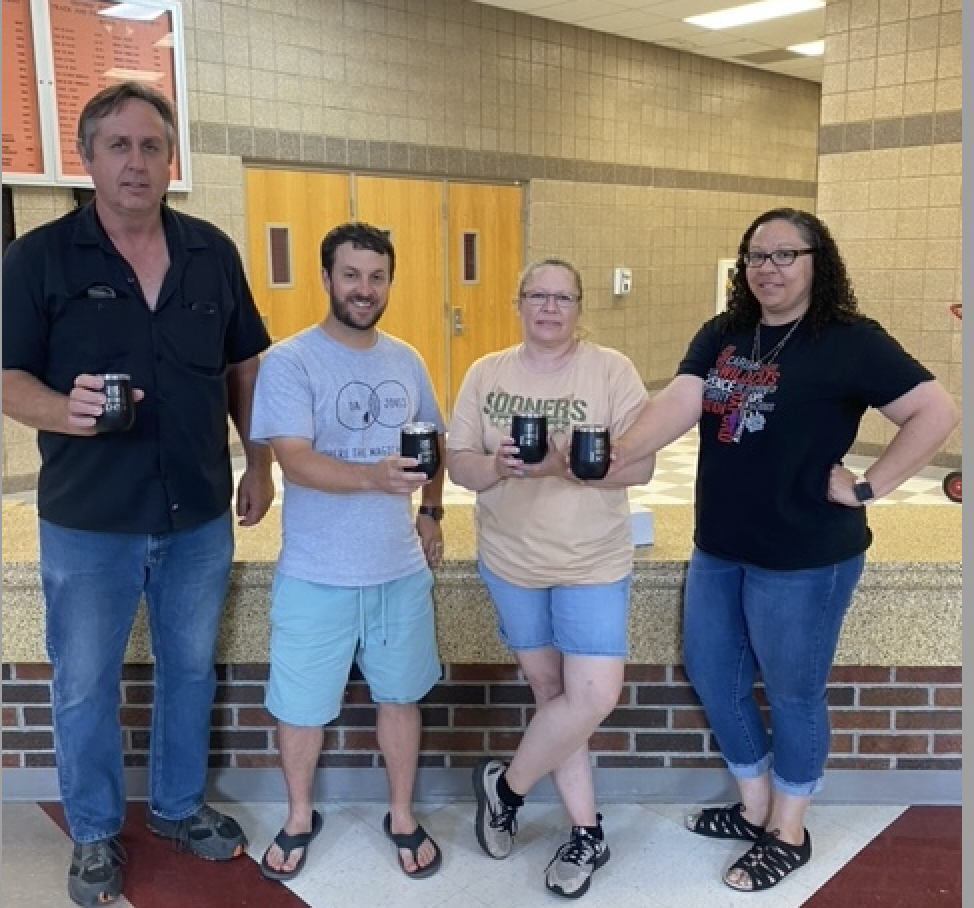 Here are the regional baseball and softball brackets! Good luck Cats.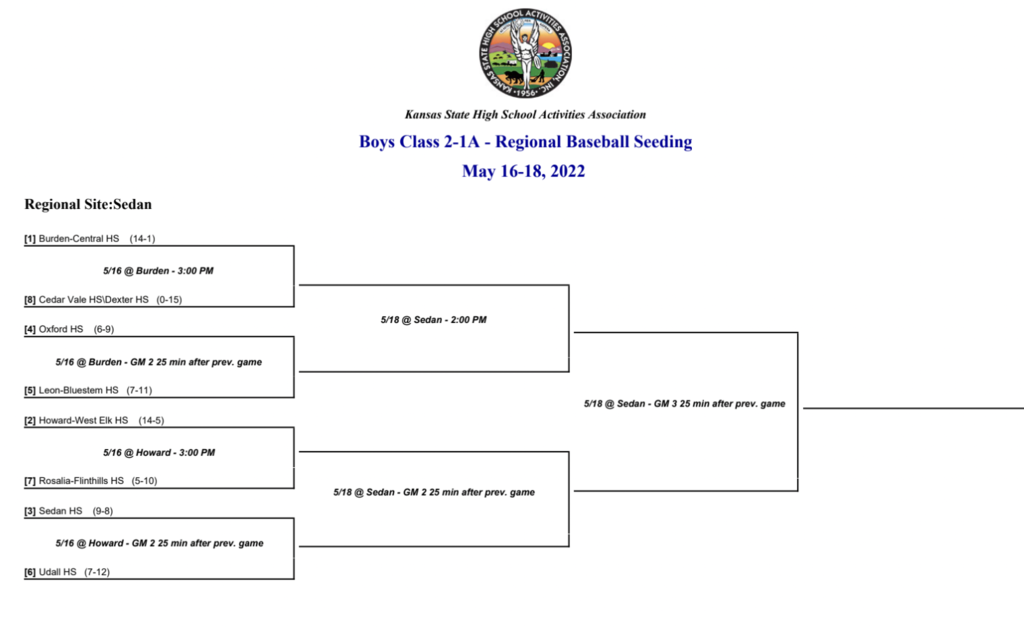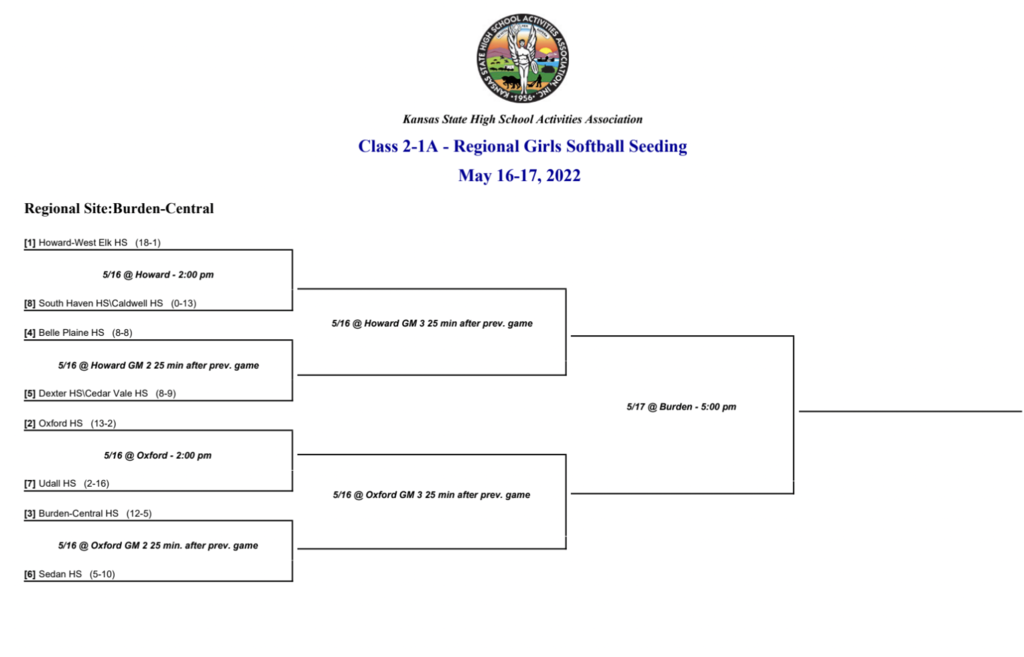 Today is National School Nurse's Day. Help us thank Mrs. Shera Neises for being an amazing nurse for our schools.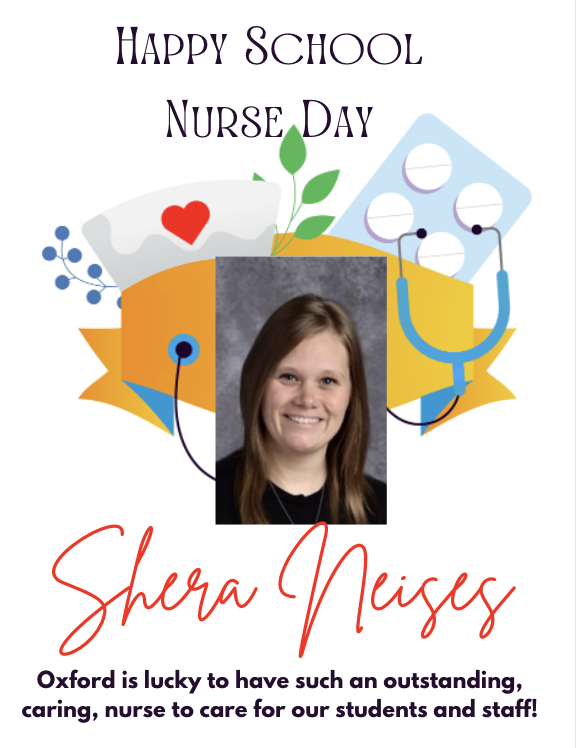 The SCBL baseball and softball tournament final games will be held Thursday at the Winfield Broadway Complex. Softball will play at 4pm. Baseball will play the second game, 5:30/6pm likely start time.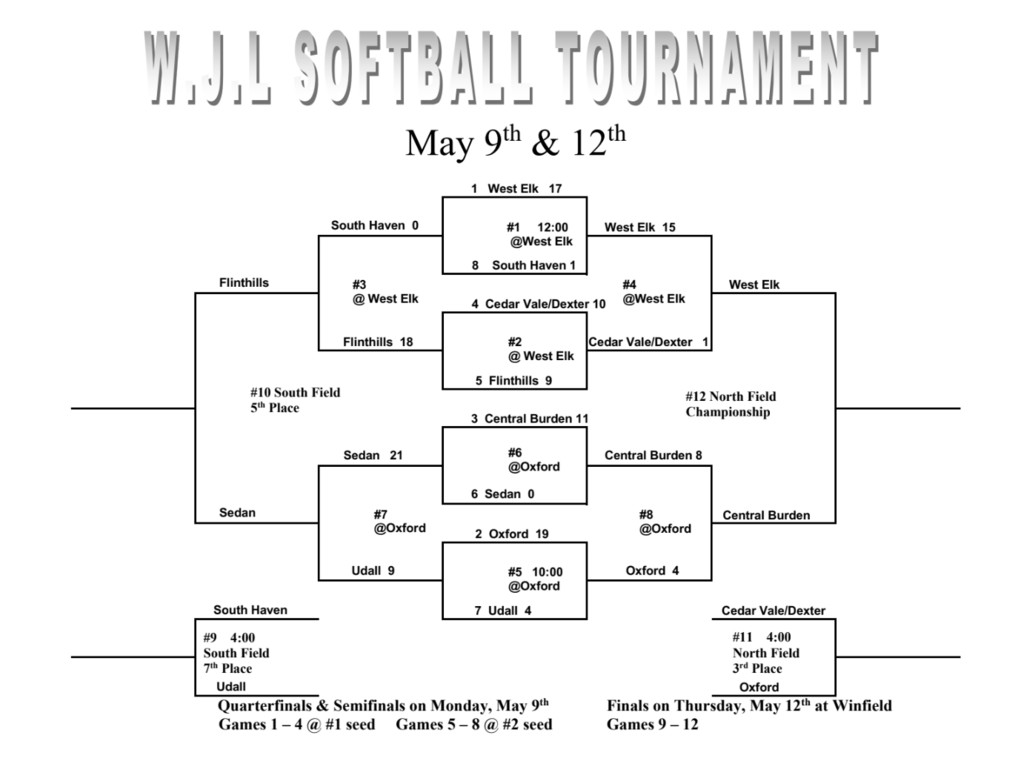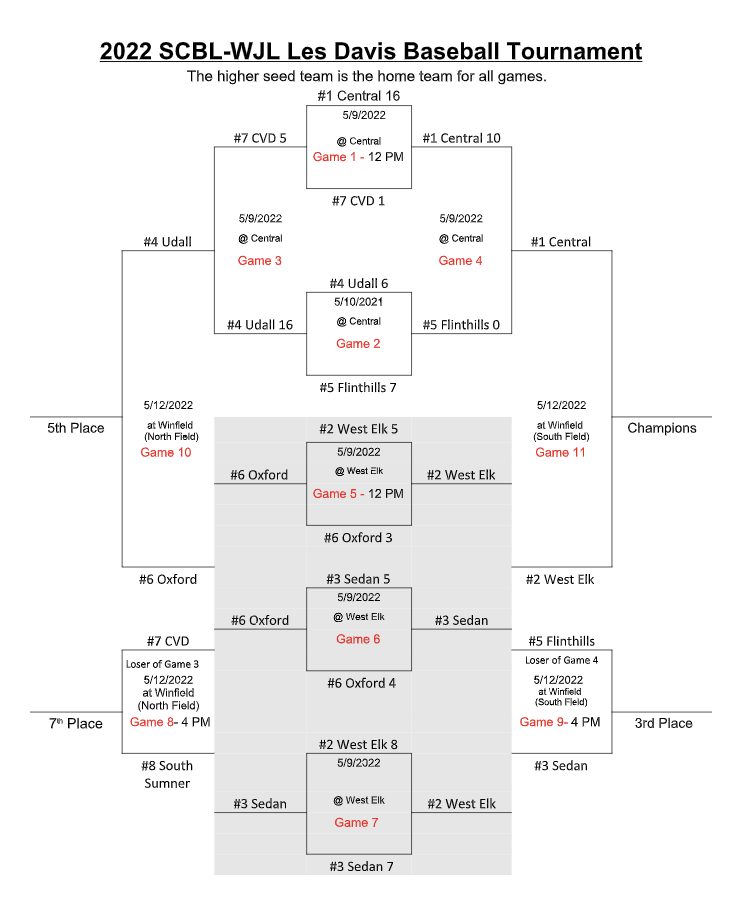 Finals from the SCBL League Softball 1st round games in Oxford Game 1- Oxford 19 Udall 4 Game 2- Central 11 Sedan 0 Game 3- Sedan 21 Udall 9 Game 4-Central 8 Oxford 4 Final rounds will be played Thursday at the Winfield Broadway Complex.

Updates from the SCBL Softball Tournament Games in Oxford Game 1- Oxford 19. Udall 4 Game 2- Central 11. Sedan 0 Game 3- Will start shortly Udall vs. Sedan Game 4- To follow Oxford vs. Central Senior Night for Softball and Track will follow game 4.

This is the last Wildcat Weekly for the school year. Make sure to check the district webpage and social media sites for updates throughout the summer!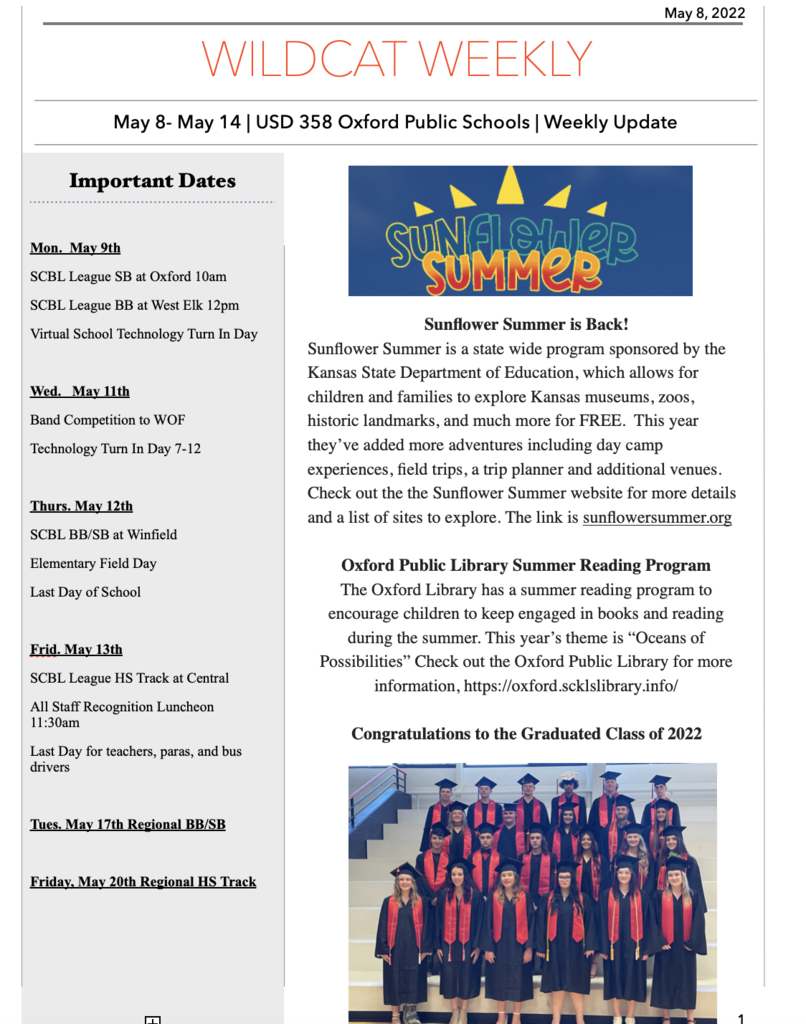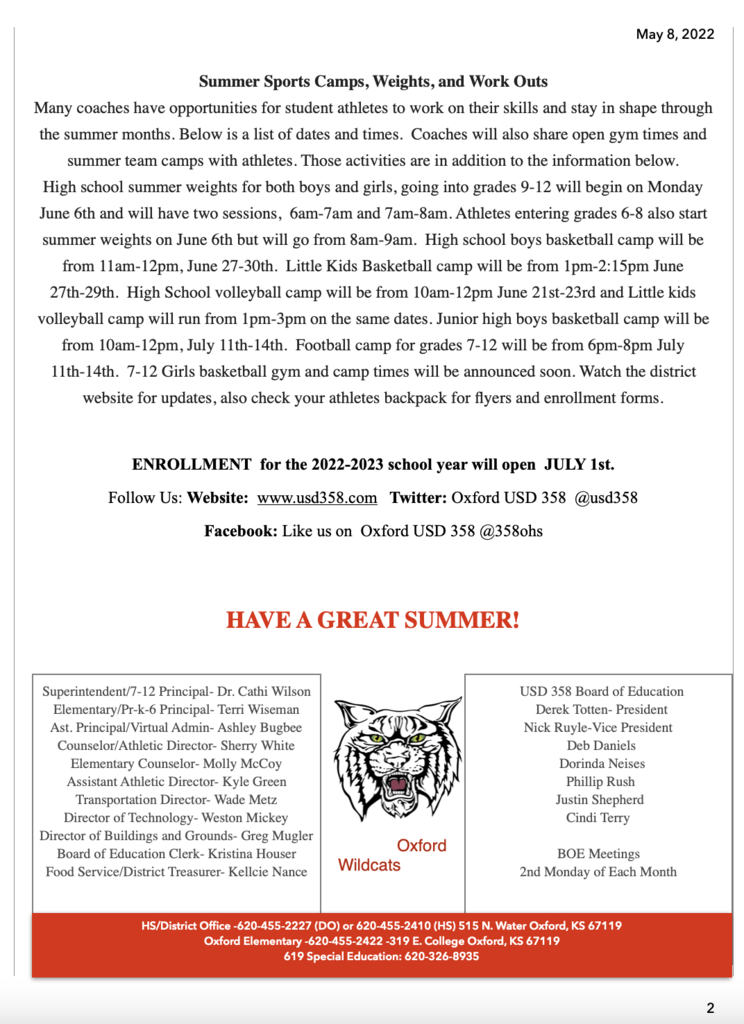 The OHS Girl's Track team took FIRST as a team at the Udall meet on Friday. Great job ladies!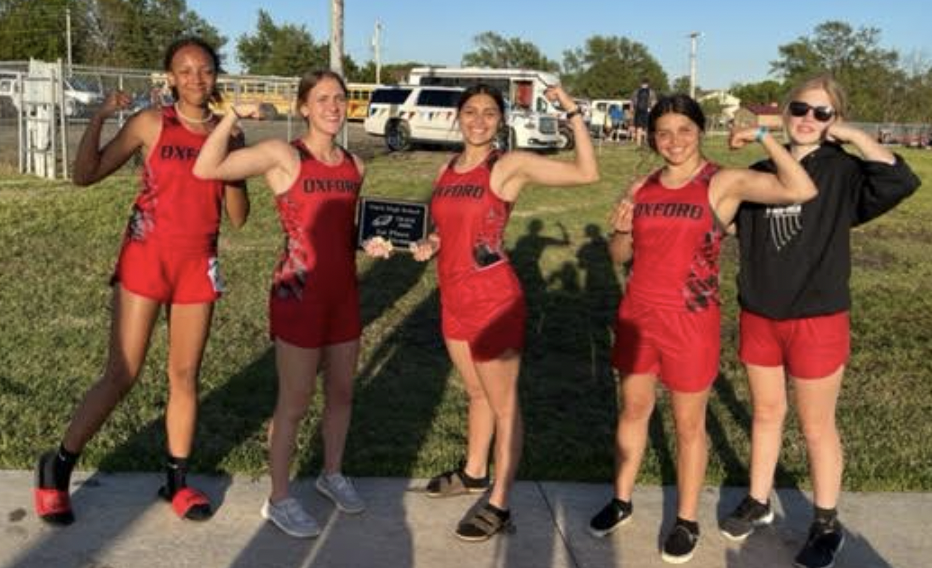 Tomorrow the SCBL Softball and Baseball tournaments begin. Oxford softball will play game one at 10am in Oxford. Baseball plays at West Elk against West Elk at 12pm then will immediately play Sedan in the second game of the W.J. L. Baseball Tournament.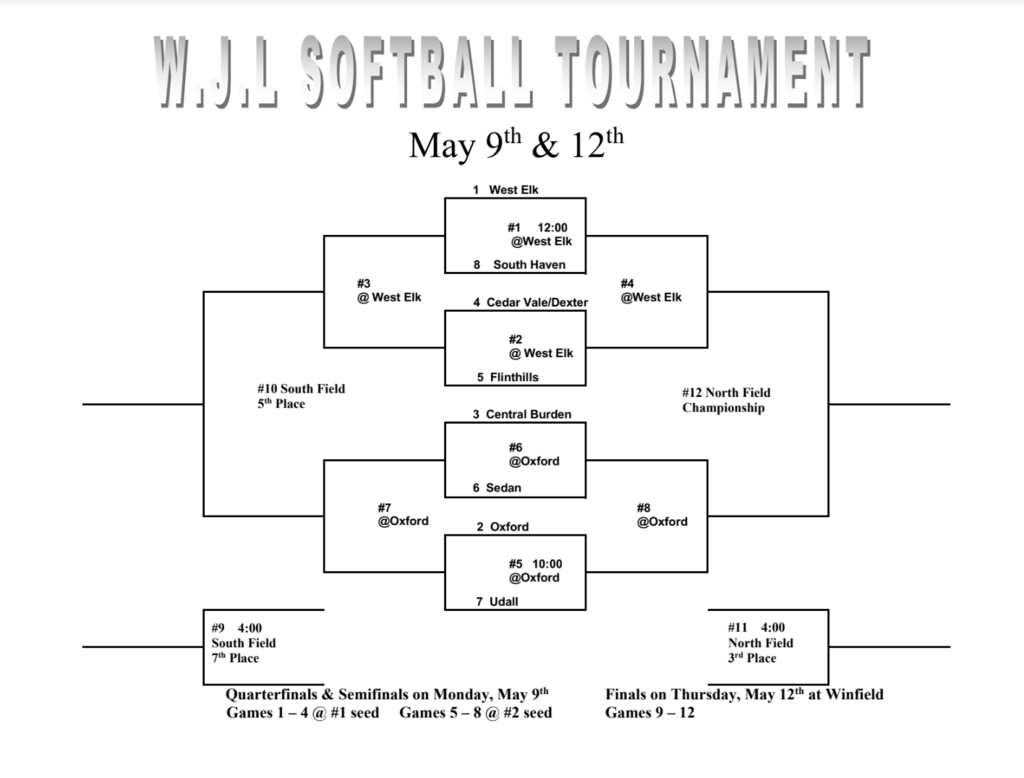 Congratulations to the SCBL League Track Meet Medalists. As a Team the 8th grade boys finished 2nd. Beau Carter - 1st Shot, 2nd 100m, 2nd 200m, 3rd 4x100 Adam Brown - 2nd Disc, 6th Shot Mason Ruyle - 4th Long Jump, 3rd 4x100m Logan Gaither - 5th 75m Hurdles, 3rd 200m, 3rd 4x100m Cade Lewellen - 5th 400m, 6th 800m, 3rd 1600m, 3rd 4x100m Madi Mayfield - 7th High Jump, 6th 200m Taleah Morris - 2nd 100m, 5th 200m, 4th 75m Hurdles Tucker Ruyle - 7th Disc, 6th 3200m Kellen Green - 3rd Long Jump, 5th High Jump, 5th 100m, 1st 4x100m Chase Douglas - 4th 100m, 3rd High Jump, 1st 4x100m, 2nd 200m Wyatt Gaither - 3rd 75, Hurdles, 6th 100m, 2nd 400m, 1st 4x100m Xzavier McClamy - 5th 75m Hurdles, 1st 4x200m, 3rd 200m Steven Williams - 7th 75m Hurdles, 4th 200m, 1st 4x100m, 1st 4x200m Ethan Owens - 1st 4x200m, 5th 400m Shaefer Hammond - 7th 3200m Gage Lewellen - 1st 4x400m, 5th 3200m Jayden Vogler - 1st 4x400m, 4th 1600m, 6th 800m Pearson Rush - 1st 4x200, 1st 4x400, 5th 1600m Aidan Frost - 1st 4x400m, 5th 800 Lilly Jordan - 1st Disc, 3rd Shot, 6th 4x100, 4th 4x200 Abreyan Walker - 4th Shot, 3rd Disc, 6th 4x100, 4th 4x200 Katelyn Gillenwater - 4th 4x200, 6th 4x100 Yacinia Gardea - 7th Disc, 4th 4x200 Savannah Whitson - 3rd Long Jump, 2nd 75m Hurdles, 5th 100m, 6th 4x100m

What a perfect day to celebration graduation for the Class of 2022!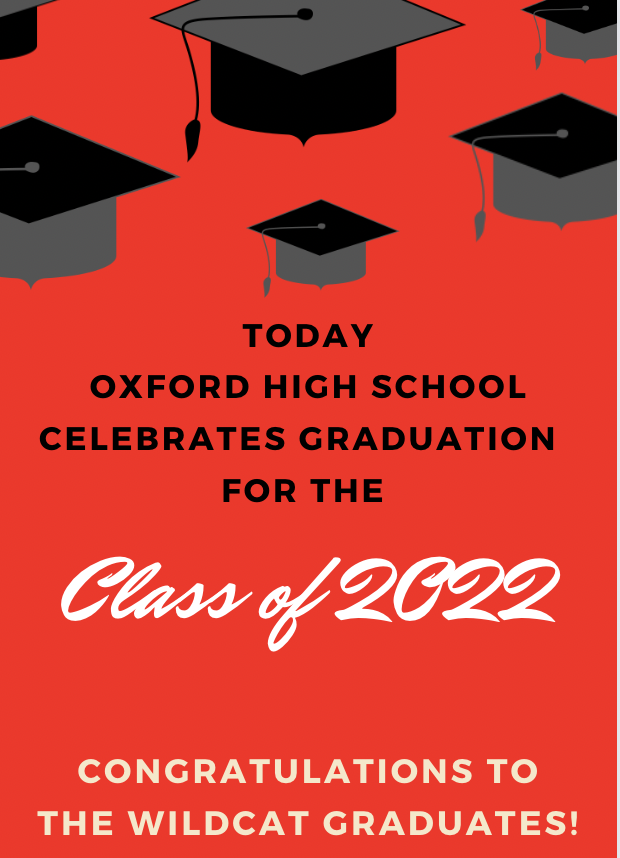 The junior SCBL League track meet scheduled for today has been moved to tomorrow at Udall. See the schedule of events included in this post.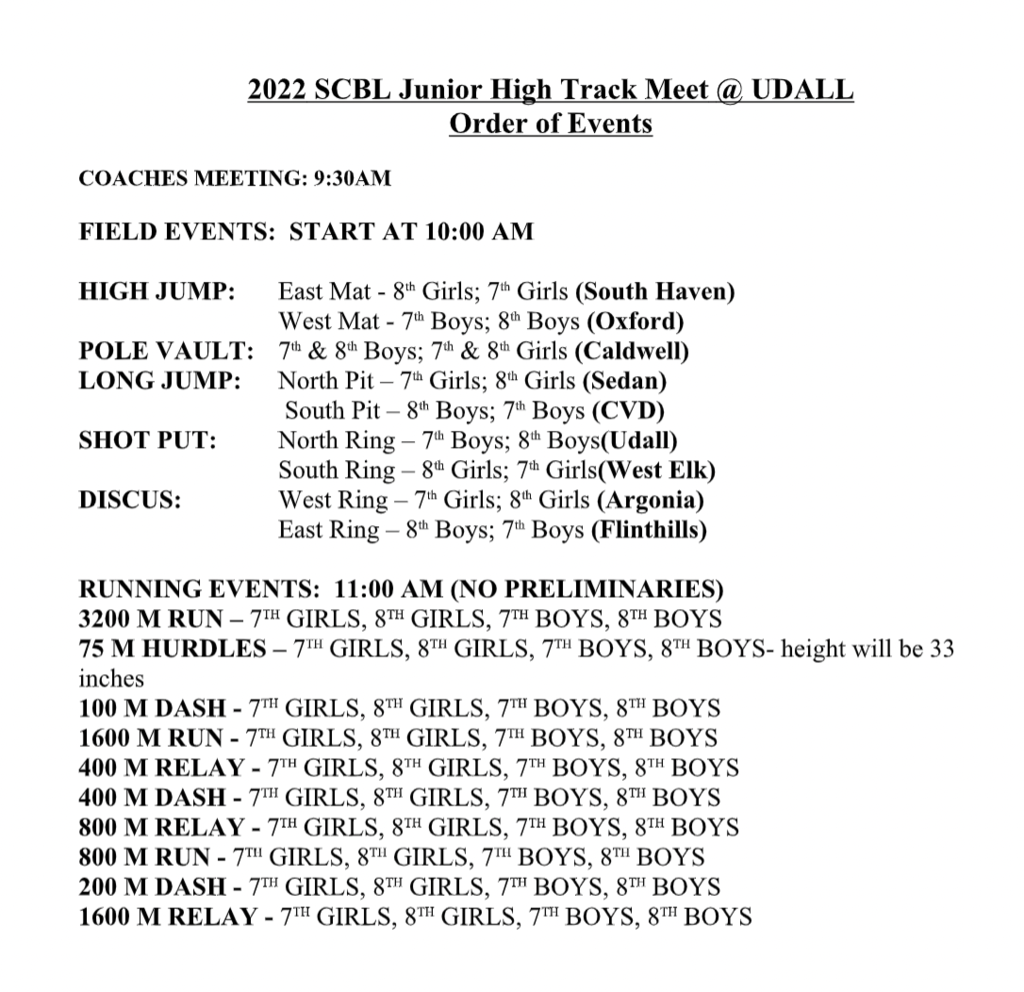 High School baseball and softball for tonight is postponed due to wet field conditions. The matchup is tentatively rescheduled for Thursday, May 5th.

Don't forget registration is due tomorrow for those interested in sending your child to the summer learning camp in June! Have a great week.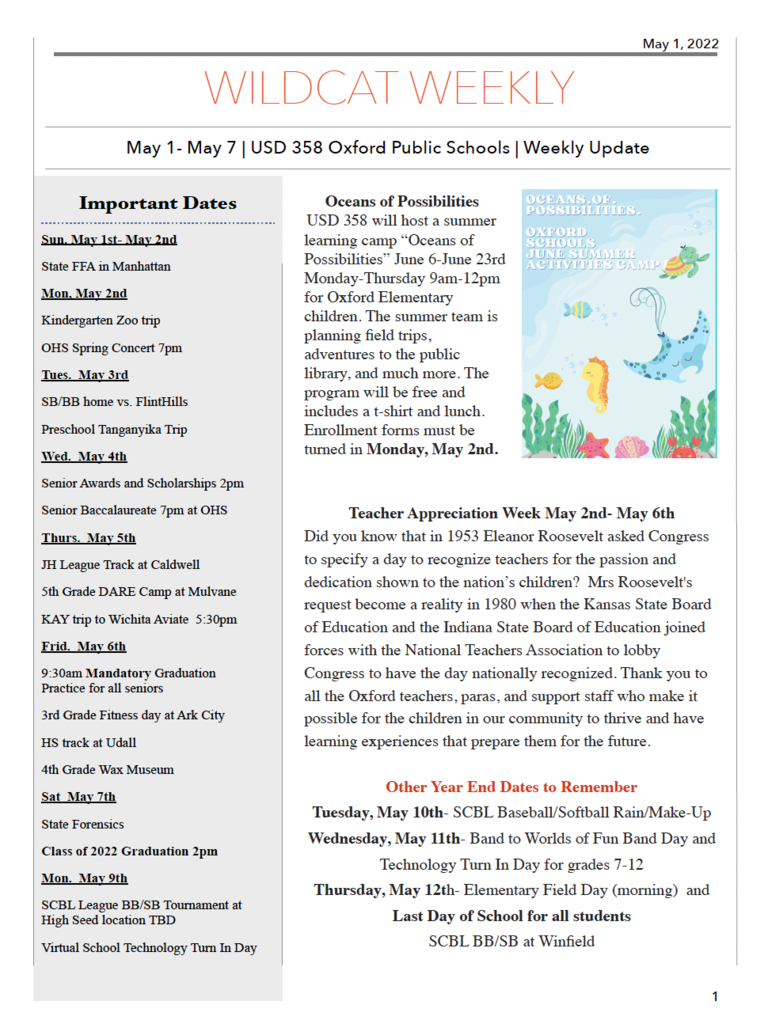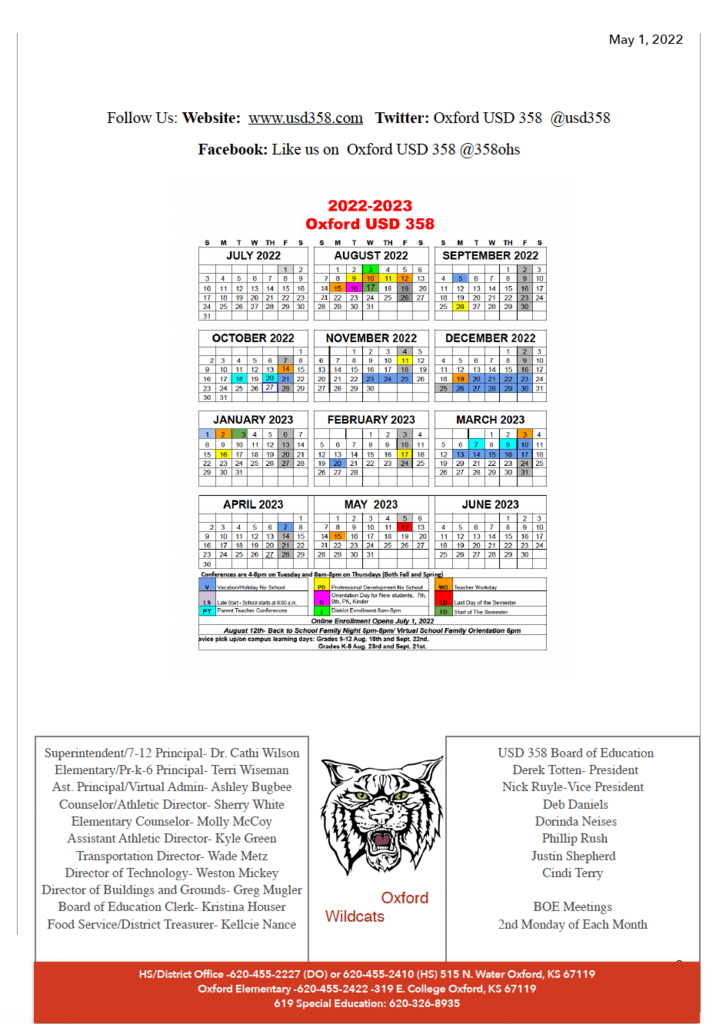 Read about the upcoming activities scheduled for USD 358! See the images included with the post.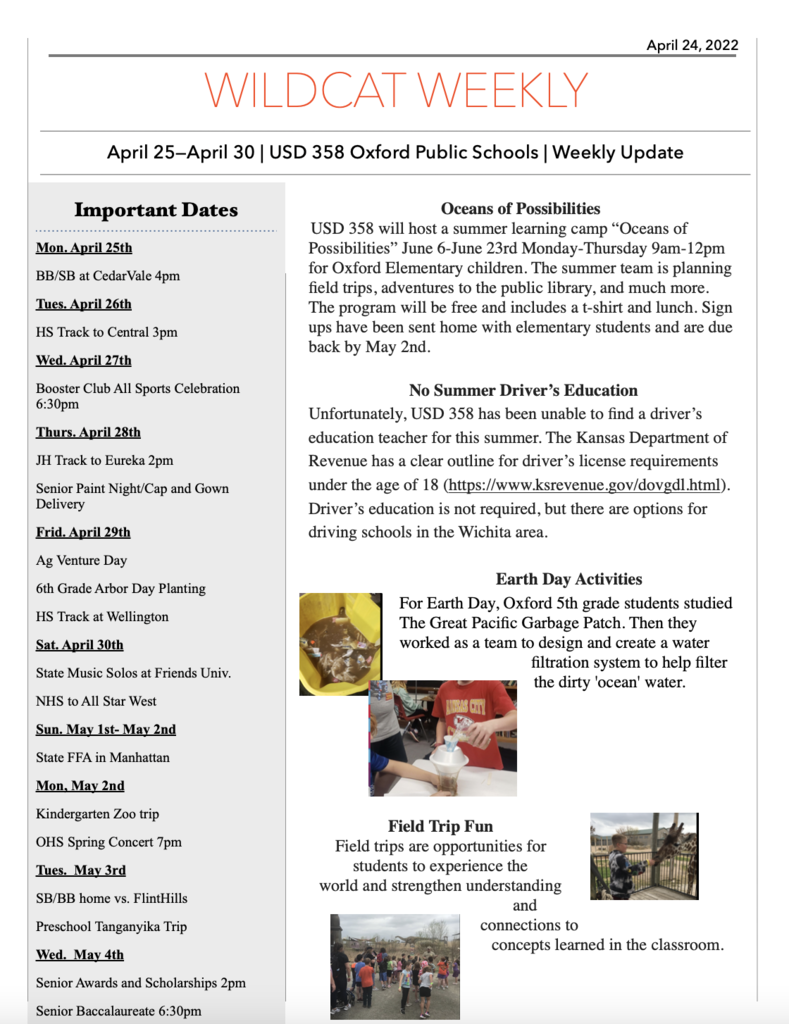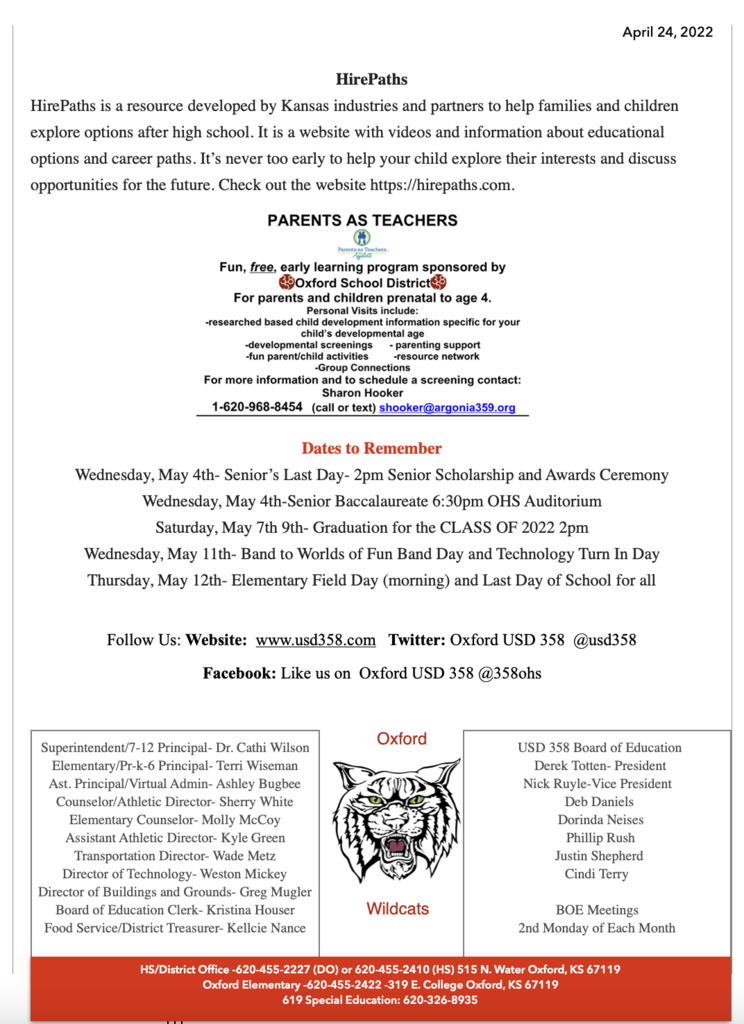 Congratulations to our nominees for April Student of the Month and the winners, Taleah Morris, Hunter Plummer and Lauren Payne!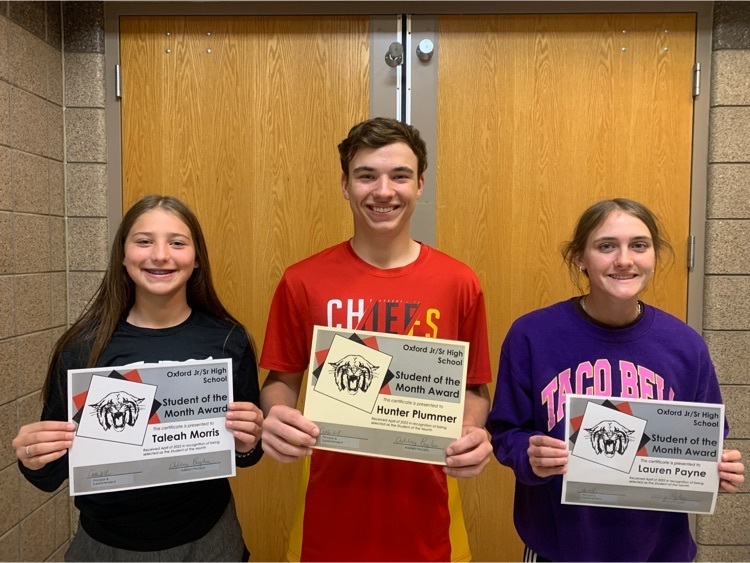 Mark your calendars for the OHS Booster Club's All Sports Banquet, Wednesday, April 27th!